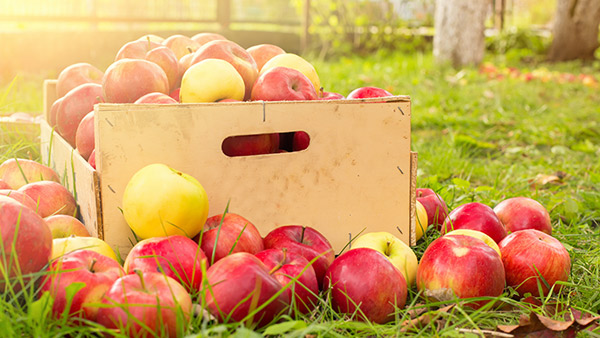 Mercier Orchards is a family owned and managed apple orchard now in its 4th generation. Founded back in 1943 by Bill and Adele Mercier presently it is the largest apple orchard in Georgia on 200 acres of land. It is known as Southern Living Magazine's "favourite roadside apple market," but it is much, much more. As the state's largest apple orchard, Mercier's offers more than 50 species of apples, peaches, nectarines, strawberries, cherries, blueberries, blackberries and more. Located just about an hour north of Atlanta, Mercier's Orchards is close to the quaint little town of Blue Ridge.
While in the orchard one faithful morning in 1975, Bill Mercier observed a limb mutation on one of his Red Delicious apple trees. The apples on the branch developed very much in advance than the other Red Delicious, even on the same rootstock, the Mercier Red chief Apple was born. In 1987, Tim added a bakery and in 1991 began baking spectacular fried pies. The Mercier's Orchard store keeps growing, adding a fruit tasting area while the orchard has acquired more acres of lands, and the business extended and grew into new markets. If you're drinking apple cider or eating a fried Chick-Fil-A at Whole Foods both started right here at Mercier Orchard in Blue Ridge.
The orchard is one of the top tourism attractions in the whole state and Apple varieties such as Red and Golden Delicious, Stayman, Beni Shogun, Rome, Fuji, Granny Smith, Gala, Mutzu, Honey Crisp, Braeburn, Jonathan, Jonagold, ambrosia, blondie, cameo, york and Jonaprince are all available in the Mercier Orchard.
A trendy tourist stop with lots of shopping, the Orchards Apple U-PICK is our most popular event of the year where many visitors are offered wagon excursions into the orchard to take a try at picking their own Apples. Bushels of apples, fresh from the nearby orchard, invite you to have a taste. Merciers is open all day of the week from 7:00AM - 7:00PM and now serves breakfast in the bakery and deli from 7 to 11 everyday. It also boasts basic amenities such as Concessions, Gift Shops, Free Parking Guided Tours, Maps and Brochures, a Picnic Area, Public Restrooms and Restaurants.
Close proximity to the Toccoa River, the Blue Ridge Scenic Railway and Blue Ridge Mountains makes it the very perfect vacation getaway. Attracting hundreds of people year round, this once best kept secret of Fannin County has become a must stop destination for tourists to Blue Ridge Georgia who enjoy the fun of picking their own apples during the fall seasons. Throughout the year and harvest season in particular, Mercier Orchards holds special events, and the family farm is always adding new creations and pastries.
Blue Ridge Georgia, luxury apartments, log Cabins, condos, single houses and town houses are available for rent by visitors who pay a visit to the orchard and other vacation sites around Blue Ridge. Both long-term and short-term visitors are welcome to take a tour around our wonderful establishment.