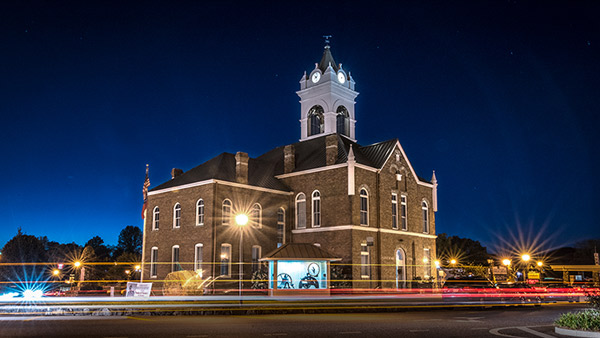 Blairsville is a town in Union County sited in the Appalachian mountains of north Georgia, United States. It is a land of clean air, welcoming neighbours, picturesque mountains, quality demographics, low felony, and a blooming local financial system. The city also happens to be the county seat of Union County and remains the single incorporated area in the county. Virtually two-thirds of Union County is in the Chattahoochee National Forest. Named after Revolutionary War expert James Blair, Blairsville has a populace of about 700 inhabitants.

Blairsville's Town Square is habitually the scene for yearly events like the Downtown Spring Arts and Crafts Festival, the Bluegrass Festival, Hometown Halloween on the Square, the Memorial Day Parade, the Sorghum Parade, the Green Bean Festival and the Christmas Parade. There are many exhilarating locations in and around Blairsville such as Meeks Park, Lake Nottely, Helton Creek Falls, Butternut Creek Golf Course and the Appalachian Trail are some of the most interesting lure.

The settlement includes Georgia's utmost point, Brasstown Bald - with a visitors' centre at the pinnacle, Track rock Archaeological Area which is the spot of primeval Indian petroglyphs, Vogel State Park - the oldest and most trendy state park in Georgia and long-time choice for camping or a cosy cabin retreat and the Russell -Brasstown Scenic Byway.

Residing or visiting Blairsville, there are a variety of activities that take place all year round and are bound to keep you having fun. These activities comprise horseback riding, whitewater rafting, golfing, skiing, fishing, wine tours and tasting, hiking, picnicking and shopping. Several waterfalls are also within a day's hike including Dukes Creek Falls, DeSoto Falls and Horse Trough Falls. For the less daring who would rather drive than hike there is the Richard Russell Scenic Highway. A 14 mile stretch of road which crosses the Appalachian track and offers picturesque views at altitude of over 3,600 feet, a must see at some point in fall.

Shopping and dining in Blairsville, GA
Blairsville is home to a lot of antique shops, thrift stores, home décor shops and boutiques such as Rountree's Furniture and Home Decor, Black and White Antiques, Shabby Chanelle's, Mike's Seafood Market and Grill, The Book Cellar, Logan Turnpike Mill and Robynne's Nest. Some of the finest restaurants in the town which are equipped to cater to your needs include, The Big Cheese - a family run restaurant featuring Blairsville's only lake side dining, Nani's Cuban Restaurant - which serves home cooked Spanish, Cuban and Puerto Rican cusine, Boondocks Bayou Grill, American catch which offers Seafood and Southern Coastal Cuisine and El Manzanillo – popular for its Mexican cuisines.

Real Estate in Blairsville
Blairsville, GA and the nearby Blue Ridge Mountains give you a place to stay while you take pleasure in some of the simple pleasures of life. Locally operated real estate offices offer their services to those attracted in buying or selling a home, cabin, land, commercial, or other type of real estate in Blairsville, GA. For short-term residents, luxury condos, sparse apartments with the best amenities and cabins are available for rent all year round, offering visitors a place to stay while they enjoy the scenic beauty of the environment and mountain air.