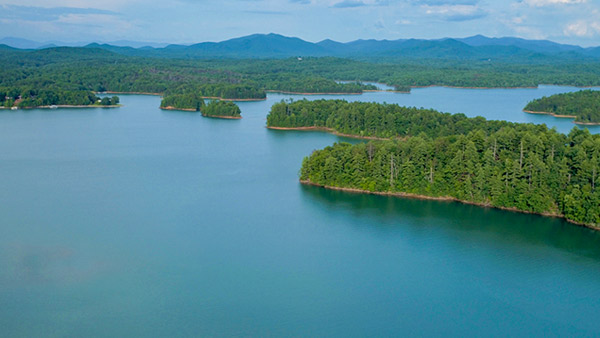 Lake Blue Ridge is a 3290-acre lake, one of North Georgia's most striking mountain lakes with over 65 miles of Lake Shoreline. Tucked away in the North Georgia Mountains, the lake is situated in the Chattahoochee National Forest and supervised by the USDA Forest Service which protects it from over-development. The lake shimmers like cobalt in a green granite background and offers picnicking, boating, hiking camping, water skiing, swimming, and fishing opportunities to its visitors.

The lake is home to a mixture of Bass, bream, catfish, perch, and crappie. Apart from a few water skiers, majority of its guests are those fascinated in camping and fishing. What makes the area so trendy is that Lake Blue Ridge is virtually the only lake where you can encounter the tough muskie in the entire state, a big game fish of the pike family and also, Walleye can be trapped here and it's one of the minority lakes south of The Great Lakes where it's probable. There are abundant facilities on the lake together with public swimming, picnic areas, boat ramps, campsites, and a service marina.

Lake Blue Ridge is fed by the northbound River Toccoa. The watercourse flows peacefully for about 15 miles north of the dam. Nearer to the Tennessee state line the river becomes feistier and its name becomes the Ocoee which is one of the Southeast's whitewater streams for rafting, home of the Centennial Olympic Games kayaking setting and visitor's center. The Toccoa River guests can partake in the most modern water sport craze, from white water rafting, tubing, boating, jet skiing, canoeing, kayaking and stand-up paddling.

Where to eat
Blue Ridge has some of the best restaurants serving the most excellent grubs, one of the best restaurants is Harvest on Main, which caters to a good number of the community and has gained status as one of the very best. If you love an Italian deli, then you need to visit Angelina's Italian Gourmet Market and Delicatessen for lunch, early dinner, or for take-out as they offer some of the most appetizing imported connoisseur and deli favourites. The Black Sheep Restaurant Patio and Bar offers new southern soothing foods like pulled pork bbq, steaks, tasty sandwiches, big flavor chicken dishes, seafood and even Asian tuna nachos and also attend to special desires like vegan, gluten free and vegetarian dishes. Danielle's Great Eats Deli offers southern cooking with a French flair. For great Mexican cuisines the Monte Alban Mexican Restaurant is the best around. Other restaurants exist offering different varieties of different cuisines.

Where to shop
The town of Blue Ridge offers a lot of antiquing destinations in the Appalachian Mountains and people can use hours exploring the many antique shops and malls such as Blue Ridge Antiques, High Country Art and Antiques, and Sycamore Crossing. Also, there are quite a few specialty shops, well-known galleries which consist of Highridge Gallery and Abreu Fine Art Gallery, popular clothing and jewelry stores such as Benchmark of Palm Beach, ssShiney Baubles and Glitzy Chix, exclusive books, sweet treats and numerous mountain venture stores. Other countrywide renowned specialty shops in the vicinity comprise Blue Ridge Adventure Wear, Wrapsody in Blue, Gatewood Hall Gracious Home, Out of the Blue, just to name a few.