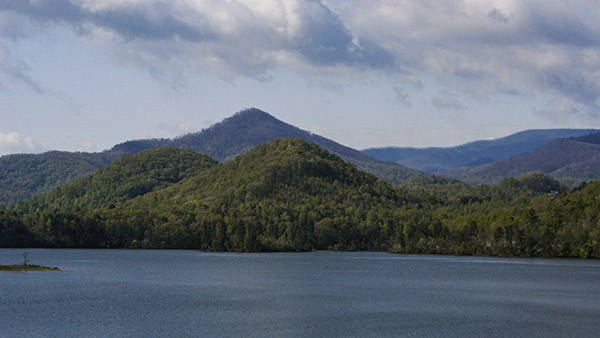 Lake Hiwassee is situated on the Hiwassee River in Murphy NC of Western North Carolina and is mostly filled by the Hiwassee, Valley rivers and River Nottely. "Hiwassee" means "savannah" or "pasture" and is gotten from the Cherokee word, "Ayuhwasi." created by the Tennessee Valley Authority's erection of the solid gravity Hiwassee Dam on Hiwassee River in 1940, the Lake is bordered by the Nantahala National Forest which offers dazzling scenery and covers 6,275 acres with roughly 180 miles of seaside, it is 22 miles long and over 200 feet deep in some areas.

As its waters course west, Lake Hiwassee runs into the Appalachia Lake. In combination with Lake Chatuge, these three lakes along the Tusquittee River are jointly referred to as the Chain of Lakes. The Hiwassee Lake has mostly undeveloped seashores and is controlled by the National Forest Service. It is sited about four miles from the city of Murphy and easily reachable from there, and is one of the most repeatedly visited places by guests to Murphy, NC.

Tourists visit this place not only for the landscape but also for the leisure activities like boating, water-skiing, canoeing, swimming, kayaking, fishing opportunities and picnicking against a peaceful mountain landscape. Those concerned in fishing can have close encounters with yellow perch, bluegill, striped bass and muskie. There are also lots of hiking trails around the woodland, which are just right if you like to take on in bird watching or nature observation.
Being close to Murphy, NC one of the easiest ways to gain entrance to the lake is all the way through the Mountain View Marina. Located inside the grounds of the Bear Paw Resort, it offers a service marina where guests can get a fishing license, rent boats, register your boat, launch boating activities and even buy boating materials and refreshments. You can equally access the waters of the lake through the Hanging Dog Recreation Area, which has a boat access ramp, a picnic area and some mountain climbing trails.

Aside from the lake other close attractions such as the Georgia Mountain Fair, Harrah's Cherokee Casino, Brasstown Valley Resort and the Butternut Creek Golf Course are easily accessible.

Whether you are vacationing, or are planning to buy a holiday home close to the Lake Hiwassee, Murphy, NC is your paramount option and its close proximity to the Smokey Mountain National Park makes it the perfect place to reside during your short or long-term stay. Dozens of Smoky Mountain attractions are just a short drive from Murphy town, making it the ideal home base for an event-filled Western North Carolina vacation. You can even enjoy easy day trips to Pigeon Forge, Sevierville, Gatlinburg and Cades Cove – and then withdraw to the peace and silence of the North Carolina Smokies. There's a lot to keep you engaged for a few days or a week's vacation. There are many significant sites to explore. For architectural interests, visit the 19th century Robert Lafayette Cooper House built in a Queen Anne architectural style or the Cherokee County Courthouse built of dull blue marble - both sites are in Murphy. The Cherokee County Historical Museum, also in Murphy, offers museum collections of Native American artefacts, early American tools and house wares and exhibits of old mountain life.

Although surrounded by a national forest, Hiwassee Lake is still next to all the thrill of the cities as it is a mere 2 hours driving distance of four major cities: Atlanta, GA; Chattanooga, TN; Asheville, NC and Knoxville, TN.